Historic Squares And Parks In Savannah Pt 3
WARREN SQUARE Habersham AND ST. JULIAN STREETS
Warren Square was designed in 1791 and named in honor of General Joseph Warren who was killed at the Battle of Bunker Hill during the Revolutionary War.
WASHINGTON SQUARE HOUSTON AND ST. JULIAN STREETS
Washington Square was designed in 1790 and named to honor George Washington, the first President of the United States. Some of the oldest houses in Savannah reside on this square.
WHITFIELD SQUARE Habersham AND WAYNE STREETS
Whitfield Square was designed in 1851 and was the last of the Savannah squares. Named to honor Reverend George Whitfield, founder of the Bethesda Orphanage, the oldest orphanage in the United States. A gazebo sits in the center and Victorian architecture is prominent in this area. Located on the square: The First Congregational Church
WRIGHT SQUARE BULL AND PRESIDENT STREETS
Wright Square was designed in 1733 and named for Sir James Wright, Georgia's third and last colonial governor. The monument in the square honors William Washington Gordon, an early mayor of Savannah who established the Central of Georgia Railroad. The large boulder marks the grave of Tomochichi, the Yamacraw Indian Chief who welcomed General Oglethorpe and the first colonists. Located on square: Lutheran Church of the Ascension
EMMET PARK BAY STREET BETWEEN ABERCORN AND EAST BROAD
Once an Indian burial ground, Emmet Park was named for an Irish patriot and orator Robert Emmet. Sections of Factor's Walk border the park and contains monuments to German Salzburgers, the Celtic Cross, Savannah's fallen soldiers from the Vietnam War, the Chatham Artillery Memorial and the Old Harbor Light.
FORSYTH PARK BULL AND GASTON STREETS
This 30-acre park is bordered on the north by Gaston Street, on the south by Park Avenue and has a one-mile perimeter popular among outdoor enthusiasts. The northern section of the park was donated to the city by William Hodgson, a private citizen, who felt the city needed a large public park. In 1851 the park was expanded and named for John Forsyth, a Georgia Governor. The park's north end is home to a cast iron fountain that was erected in 1858. The Forsyth Park Fountain was designed to resemble the grand fountain in Paris at the Place de la Concorde. An exact replica of the Forsyth Park Fountain resides in Cuzco, Peru. The park is also adorned by monuments to the Confederate Soldier, the Marine Corps Monument, the Spanish-American Monument and the Fragrant Garden for the Blind. The Forsyth Park Fountain is one of the most visited attractions by visitors to Savannah
Information is from The Landings' New Resident Orientation Booklet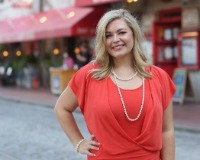 Meet Jenny Rutherford Jenny Rutherford Real Estate, LLC. Where did you grow up? I grew up on a farm at the base of the Blue Ridge Mountains in Virginia. I've lived in several states, including Virgi....