HOLIDAY LIGHTS! MUSIC! DANCING! SHOPPING! DINING!
A celebratory Tybee tradition downtown with the tree lighting and holiday joy!
You are invited to partake in the festive Island spirit as Mayor Buelterman lights the Christmas tree at the Roundabout. Following the lighting ceremony, the choir – led by performers with the Tybee Arts Performing Society will lead you from the tree to the steps of Historic Carbo House for holiday entertainment and good ole' fashioned singalongs. This year's choir theme will be announced soon!
Tybee Beautification will present the Best Decorated Business awards and Gretchen Greene School of Dance students will be performing will get you ready to call out a huge welcome for Mr. Claus as he arrives to our town for the weekend!
Children can also enjoy gently falling snowflakes from the Sea & Breeze throughout the evening.
Complimentary refreshments will be available at participating locations throughout downtown during the evening celebration.
Date: December 1, 2017 6:30 pm – 10:00 pm
Information and photo are from the Tybee Island web page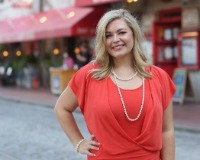 Meet Jenny Rutherford Jenny Rutherford Real Estate, LLC. Where did you grow up? I grew up on a farm at the base of the Blue Ridge Mountains in Virginia. I've lived in several states, including Virgi....