Financing The Perfect Flip
Financing The Perfect Flip!
For those interested in getting into the house-flipping game, advanced research is essential to ensuring a profitable venture. While there are numerous upsides to this type of investment pursuit, knowing what you're getting into will help you establish the right team to bring your dreams to fruition. Jenny Rutherford Real Estate can be an expert partner when it comes to finding the perfect properties to get you started.
How Are Your Finances?
The art of house flipping is based on the concept of buying a home at below market value, making repairs and upgrades to increase its appraised value, and then quickly selling it for a profit. For all of these elements to work in concert, you'll need to have a healthy financial picture. This means a low debt-to-income ratio, good credit, and preferably, a bankroll. You'll need to put in a down payment, close on the property, fund repairs, then list and sell the property. All of this requires different degrees of financial liquidity and creditworthiness, so enlist the help of a reputable lender to help you assess your financial health before getting started.
What Can You Do?
Before you start looking at houses, Family Handyman notes it's wise to make an honest assessment of what types of repairs and upgrades you can do on your own, and what you'll need to hire out, as this will factor heavily into your house-buying budget.
A knowledgeable real estate professional can be a help when it comes to finding a flippable property, as they'll be familiar with the local market and the age and condition of the homes you're exploring. A real estate agent can also help you make a determination about how long it will take to make a successful flip in current conditions – another issue that will factor into your budget, as you'll be paying the mortgage during the fix-and-flip process.
Basic Flip Fixes
Of course, the amount of work a house will take to get it into resale condition will vary from one property to another; however ideally, for your first flip, you'll want something easy that only requires minor cosmetic repairs. For example, Flooring Express says nice upgrades to flooring don't have to be pricey. Painting and landscaping work can also be done inexpensively, and even small things like changing out light fixtures, pressure washing the house, or planting new shrubs can give the home great curb appeal.
Once you get into construction remodels or large-scale repairs, the timetable for the flip, and the price tag for the work, increase incrementally and begin to eat into potential profits. Minding your budget throughout the process is essential – especially when it comes to not just repairs, but closing costs, realtor fees, inspections, and the like.
How To Find Help
Most successful house flippers establish a team of professionals and independent contractors to make their venture a success. In addition to a realtor and lender, you might also retain a general contractor, a handy person, an electrician, a landscaper, and a painter or flooring installer.
Even if these aren't full-time employees, consider investing in software for payroll and accounting to ensure you are paying everyone on time, even with same-day deposits. Such a system will also help you come tax time. If you decide to rent a property while waiting for a ripe flip market, having a property manager on payroll can also be a help.
House flipping can be highly profitable in the right market, but of course, as with any investment, there's always a risk. Work with a financial advisor to ensure you have a good understanding of the process, your resources, and your access to various loan products.
Having a knowledgeable real estate professional on your team can give you a notable edge when it comes to finding flipping properties, getting them for a good price, then reselling them for a profit. If you're looking to buy or sell in Georgia, reach out to Jenny Rutherford Real Estateby calling (912) 388-2828.
Photo credit: Pixabay
Guest blog by Tina Martin
Tina Martin stays busy as a life coach and works hard to help herself and her clients achieve a healthy work-life balance. She started ideaspired.com as a side project to reach as many people as possible, and encourage them to put their dreams first.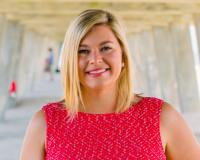 Meet Jenny Rutherford Jenny Rutherford Real Estate, LLC. Where did you grow up? I grew up on a farm at the base of the Blue Ridge Mountains in Virginia. I've lived in several states, including Virgi....