6 Ways To Build Home Equity
6 Ways To Build Home Equity!
Equity is a term used a lot in real estate. It's an incredible benefit to homeowners. Equity can be built up and used for things like house remodels or paying off debt. But what is it? And why is it important to understand?
Home equity is the difference between what your home is currently worth and what you owe on your mortgage. For example, if you purchased a $200,000 home and made a $20,000 down payment, you would owe $180,000 on your mortgage. Because your home is worth $200,000, you would have $20,000 in home equity.
Home equity can rise and fall over time based on payments made and the value of your home. For example, if you purchased a home for $200,000 and have made $10,000 in payments, but the home's value increased to $210,000, then you would have $20,000 in home equity, even though you have only paid $10,000 in payments!
To correctly determine how much equity you have in your home at any point, you will need to know the value of your home. Only a real estate appraiser can truly give you an official valuation of your home, though it can be estimated by looking at comparable recent sales or through online estimates. Though estimates aren't always accurate, they can give a rough approximation of your home's value. Get your estimate here: https://bit.ly/BuildHomeEquity
Luckily, home equity can be built in a number of ways! See which of these six equity-building methods you can apply in order to build your home equity and start achieving other goals!
Increase your down payment
Building home equity can begin even before you have made your first mortgage payment! By increasing your down payment, you can decrease the amount of the mortgage loan needed to finance your new home. Paying more upfront builds immediate home equity.
This is the fastest way to increase equity in your home. This also helps to decrease the amount of your monthly mortgage payments!
Make bigger and/or additional mortgage payments
A slow, but sure method to building home equity is to make bigger and/or additional mortgage payments. Though chipping in an additional $50-100 each month on top of your required payments may not seem like much at the moment, it adds up! You could be putting in $600-1200 each year! If you were to choose to make bi-weekly payments, you could build equity, twice as quickly.
The best part of this option is that you can choose to put in as much or as little as you want! There's no obligation to continue each and every month at the same amount. Have a little extra money leftover at the end of the month? Make the extra payment! Need unexpected car repairs? Spend the extra funds there!
Refinance and shorten your mortgage loan term
Have a 30-year mortgage loan term? Refinancing your home may be the perfect option to help you build equity in your home. You typically get a lower interest rate with a shorter loan term, and more of your mortgage payment goes toward the principal each month.
Rates are at record lows right now, which can save you thousands of dollars over time. Keep in mind that refinancing isn't guaranteed. Good credit, a certain amount of equity already, and a low debt-to-income ratio are all considered and play a part in qualifying. It is also important to note that your monthly payment will increase by refinancing. Make sure to consider all aspects of your finances before making this decision.
Wait for the value of your home to increase
Did you know that staying in your home for 5 years or longer is an easy way to see your home's value jump? Though an increase in home value is never guaranteed, the odds of an equity boost are greater just by having a little patience!
National appreciation values average around 3.5 to 3.8 percent per year. Home appreciation fluctuates based on local housing market trends and the economy, as well as supply and demand.
Invest in remodeling and home improvement projects
One of the greatest ways to build equity in your home is to invest in remodeling and home improvements. These projects will help to increase the value of your home. Adding square footage and making sure integral systems like heating and cooling are updated will be highly desirable for future buyers.
The key to successful renovations is to find cost-effective projects that will have the greatest return on investment. Things like a fresh coat of paint, new fixtures, and updated appliances often make even more of a difference than new flooring, which can get costly.
Rent it out
If you are able to rent out your home, you may be able to build equity in your home in half the time by renting it out! By charging rent and also making mortgage payments you will be doubling the accruing equity. You could even simply pay off the mortgage with the rent alone, with little to nothing coming out of your own pocket!
This option is ideal for second homeowners who won't be residing in their homes year-round. Having a rental property can help to build equity in half the time by making twice the amount of payments. It is important to also consider maintenance and property management costs when renting out property. Short-term vacation rentals require much more attention than long-term rentals due to frequent cleanings and guest needs, however, they tend to generate more revenue.
Next Steps
If you're interested in building equity in your home and don't know where to start, go to https://bit.ly/BuildHomeEquity to see what your home could be worth for FREE! It might be worth more than you think! Let Jenny Rutherford Real Estate help you by tracking your home's value and helping you build your wealth. This service will give you personalized home financial data by tracking your home value and equity!
If you've already built equity in your home and are looking to sell, give Jenny Rutherford Real Estate a call to talk about cashing out and selling your home at 912-388-2828. Now is the perfect time to sell!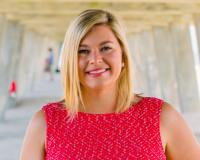 Meet Jenny Rutherford Jenny Rutherford Real Estate, LLC. Where did you grow up? I grew up on a farm at the base of the Blue Ridge Mountains in Virginia. I've lived in several states, including Virgi....