Tybee STVR Moratorium What Is It How To Get Grandfathered In Now
Tybee STVR Moratorium: What Is It? How To Get Grandfathered In Now!
Do You Own Property On Tybee Or Are You Considering Buying Property On Tybee?
This moratorium, if passed, will bar property owners on Tybee Island from registering their home as a short-term vacation rental for a minimum of 6 MONTHS with a potential 60-day extension for an unlimited amount of time!!
This moratorium will prevent anyone from renting their property out short term for less than 30 days at a time if they haven't registered it yet. Also-if you go to sell your home, the city won't allow new owners to be able to register.
The City of Tybee is considering "banning" registration as an attempt to stop people from operating any new vacation rentals BUT requiring registration of a residential rental by a Municipality is ILLEGAL in the State of GA, to begin with!! According toO.C.G.A. 36-74-30(b),"in no event may a local government require the registration of residential rental property." Read the law here!
The city is also planning to charge per person you can have in the property AND require site plans for parking!
👉 We have also just learned that another proposal being considered includes ONE PARKING SPOT PER PERSON IN EACH RENTAL will be required.
The moratorium references that 40% of properties on Tybee are vacation rentals BUT these numbers are false because a lot of those "registered" are primary residents who are scared of losing their property rights, second homeowners who may rent out time to time or occupy their property for a few months out of the year. It's been rumored over 100 properties, including many full-time residents, on the island have registered their property in hopes of being "grandfathered in" but this moratorium doesn't allow transfers of existing registrations to new owners.
Here's How To Register Your Property!

If you would like to register your property on Tybee Island to protect your property rights and ability to rent out your home you will need to do so quickly to make sure it's before the potential ban. If you have no plans to rent out your property as a short-term vacation rental, then no action is needed.
The choice is up to you!
For those who want to register, here's how!
STVR properties complete an application with the City must have a tax certificate number (business license) and must comply with sign requirements contained within this code. Hotel tax and state sales tax must also be collected and paid on rental receipts. More information can be found by reviewing the Ordinance and in the information below.

1. STVR property owners must complete an application prior to advertising or operating.

http://https://secure.hostcompliance.com/tybee-island-ga/permit-registration/welcome

2. STVR property owners will need to secure a business license unless the property is managed by a company with a Tybee Business License.

http://http://www.cityoftybee.org/documentcenter/view/182

3.Effective July 1st, 2021 if you use AirBNB or VRBO the websites are remitting your state, county, and city hotel/motel taxes. If using, you will NOT need to send ANY additional funds to any of these entities.The information below should be used if you are not using a third party booking platform (ex: direct booking)
Short-term vacation rentals are required to remit a 7% local hotel/motel tax to the City's Revenue Department by the 20th day of the following month. Please follow the process outlined on the Hotel/Motel Tax Monthly Return to remit your payment. A report must be filed on time even if there is no revenue.

http://https://secure.hostcompliance.com/tybee-island-ga/permit-registration/welcome
In addition to the local hotel/motel tax, the 7% State Use and Sales Tax must be remitted to the Georgia Revenue Department by the 20th day of the following month. To file State Sales Tax, register with the State's Department of Revenue to obtain a State Sales Tax Number. Please refer to the Georgia Department of Revenue for more information about the State Use and Sales.
http://http://www.cityoftybee.org/documentcenter/view/182

4. The Tybee community is dedicated to maintaining a safe and peaceful family atmosphere for all residents and visitors of Tybee Island. Tybee Island has implemented a "Good Neighbor Program", and STVR owners and managers pledge to inform their guests about local laws, subdivision rules, and beach rules. STVR owners and managers must use their best efforts to assure that use of the premises by rental guests will not disrupt the neighborhood, and will not interfere with the rights of neighboring property owners to the quiet enjoyment of their properties.

http://https://www.cityoftybee.org/347/Short-Term-Vacation-Rentals

5. STVR Owners must designate a local emergency contact person to contact for problems. The local contact must be available 24/7 and must be able to respond to complaints regarding the condition, operation, or conduct of occupant, and be able to take remedial action to resolve complaints in a timely manner.

To view the City of Tybee Island's website page for Short Term Vacation Rentals, click here: https://www.cityoftybee.org/347/Short-Term-Vacation-Rentals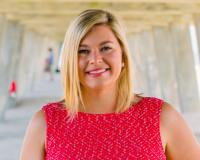 Meet Jenny Rutherford Jenny Rutherford Real Estate, LLC. Where did you grow up? I grew up on a farm at the base of the Blue Ridge Mountains in Virginia. I've lived in several states, including Virgi....