TEN Home Improvements With The Highest Return
TEN Home Improvements With The Highest Return On Investment
Before listing, we get so many questions from sellers about what updates and repairs are worth the time and money spent. Besides the obvious to-do's when selling, like trash removal and lawn maintenance, we've found 10 home improvements that will give the best return on investment! Even if you aren't considering selling your home, take a look to see what fixes can increase the value of your home.
Garage Door Replacement
Replacing a garage door can make a huge difference in the outside appearance of a home. It's an easy way to update a home without spending a ton of money. Having a garage door that matches the front door and/or the shutters can give a home a cohesive look and really increase the value of the home.
Manufactured Stone Veneer
Manufactured stone veneer, or faux stone, is a great way to increase the value of a home by giving a sophisticated look. Manufactured stone is about half the cost of real stone and provides an easy, cost-efficient way to update a home. It can be used as siding, on entryways, or around mailboxes.
Minor Kitchen Remodel
The kitchen is one of the most important parts of a home! Making sure that it's up to date can make a huge difference when it comes to selling it down the road. Though minor kitchen remodels won't make the area unrecognizable, it will definitely make a difference. Try updating hardware on cabinets and the sink, resurfacing cabinet fronts, or updating the backsplash!
Update Siding
Siding is one of the biggest protectors of a home. Making sure that siding is updated and able to protect a home from the elements is essential, and therefore one of the top home improvements that will get a great return on investment. There are a number of siding options that are cost-efficient. This is also a great way to give a home exterior a facelift!
Minor Bathroom Remodel
A bathroom is one of the most renovated parts of a home. To update this space before selling, first check to see if there are any updates needed that affect functionality like cracked tile, mold, rust, or old caulking. If that all checks out, look to replace sink hardware, the shower head, the toilet, lighting, and give it a fresh coat of paint! A nice deep clean of the tub, shower, or floors is also a cost-effective way to refresh the existing space!
Roof Replacement
Even though there is nothing glamorous about a new roof, this home improvement project is one that is close to the top of the list when it comes to getting the most bang for your buck. Homebuyers want to know that the home they're buying is structurally solid. The cost of maintenance from water damage and other problems that come with a bad roof is prone to turn buyers away before they've even walked inside.
Paint
A simple coat of paint can make the world of a difference in a home. Taking the time to give a home a facelift before selling can add so much value and covers any imperfections that may be visible (and at a reasonable cost!). Be sure to use neutral colors rather than making a bold statement. It may not be every buyer's cup of tea!
Flooring
Changing out the carpet for hardwood flooring throughout a home can give 70-80% returns! Especially in common areas, hardwood floors are often sought out by buyers because they are able to stand the test of time, while also giving a home a modern look. Hardwood flooring can be an expensive upgrade but is often worth it. If the cost isn't in the budget, engineered hardwood or tile may be a better choice.
Create A Grand Entrance
An entryway is what makes the first impression of a home. Make sure to make it count! You can refresh your entryway by painting the front door, updating house numbers, improving landscaping, replacing hardware, or pressure washing the walkway. These minor changes can drastically improve a buyer's first impression even with a small budget.
Backyard Deck Or Patio
Creating a designated outdoor space can have a significant return on investment, however, costs can get high with all the bells and whistles. Make sure to make changes that will make a difference. For example, a nice stone patio and a fire pit may get a bigger return on investment than a full outdoor kitchen.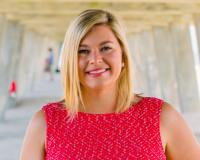 Meet Jenny Rutherford Jenny Rutherford Real Estate, LLC. Where did you grow up? I grew up on a farm at the base of the Blue Ridge Mountains in Virginia. I've lived in several states, including Virgi....