All For Blue Is Coming To Tybee AND Beach Clean
All For Blue Is Coming To Tybee Island!
All For Blue is a Greek non-profit organization with global actions, founded in 2017 by Katerina Topouzoglou, and has the mission of protecting the seas and oceans through education and experiential cleanup actions. With ocean conservation seminars, they aim to inform future generations about the balance of marine ecosystems, to provide ways to avoid single-use plastics, and to tell the truth about what is really happening in the oceans. With beach and underwater cleanups, they work to show the participants how to organize a cleanup, act as a team and raise awareness.
While in Greece, Jenny met Katerina. They spoke of Tybee's beach community and the Maritime Academy. The All For Blue Team is meeting up with the Tybee Island Maritime Academy (TIMA) to present an ocean conservation seminar and coordinate a beach clean-up on Tybee's beaches. They will be meeting with middle grades classes December 6th. That night, join us at the Tybee Post Theater to hear more about All For Blue and their time with Tybee Island Maritime Academy students. More information about this event is coming soon!
Jenny Rutherford Real Estate hopes to help further the work of All For Blue to regularly host beach cleans and help keep Tybee clean! Jenny Rutherford Real Estate will be organizing a public sunset beach clean on December 3rd to help Tidy Up Tybee! Join us at the Tybee Pier off Tybrisa at 4:00PM to watch the sunset and clean our beach. Let us know you'll be joining us by signing up through Eventbrite. Clean-up bags will be provided. Find the event here: https://bit.ly/tidyuptybee Parking using the ParkTYB app is free after Thanksgiving until the New Year. After the beach clean, you can watch the Tybee Christmas Parade beginning at 6:00PM!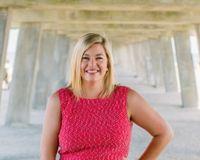 Meet Jenny Rutherford Jenny Rutherford Real Estate, LLC. Where did you grow up? I grew up on a farm at the base of the Blue Ridge Mountains in Virginia. I've lived in several states, including Virgi....