Property Tax Sticker Shock A Closer Look By Jason Combs
Great read and behind the scenes of what is happening at the Board of Assessor's office. Pay attention to your Property Record Cards and assessments!

Property tax sticker shock: A closer look
By
Jason Combs
via Connect Savannah https://www.connectsavannah.com/savannah/property-tax-sticker-shock-a-closer-look/Content?oid=8618988
PROPERTY TAX notices went out the middle of last month. May 15 to be exact, which is important, because owners have 45 days, or until June 29, to file an appeal.
And from the consternation I've seen online over some rises in valuations (my own consternation included), this is a date that people might want to keep in mind.
The first thing to point out is that notices only give a lump sum for a property's appraised (100%) and assessed (40%) values. If you have spent any time looking at property cards online, you know that this overall value is actually broken down into two components – the value for the land, and the value for the improvements (buildings and such).
A few notes before I dive into the weirdness that I found there:
• I know that I should expect values to be going up, given that I live in a "hot" neighborhood like Thomas Square/Starland, and especially when I spend a great deal of my time promoting that neighborhood in this column and in real life. However, I do not think that my neighborhood is so hot as to see a +70% jump in value in just one year. Yeah. Wow.
• This column will focus on the land portion of the property value. Improvement values are determined separately and can go up or down independent of land values.
•I will not discuss homestead exemptions. These affect what is paid in property taxes, but not the base valuation.
• Renters: You don't pay property taxes directly, but you still might want to look up the property card for where you live. If the value got hiked, expect the tax increase to be passed along to you via a rent increase.
On to the show...
While I certainly have heard others loudly protesting their property value increases, and hence their property taxes, I have also heard others, quietly and typically only face-to-face (rather than online), admitting that their values had actually gone down.
And these are people I know in the very same "hot" neighborhood. Some of these lucky people I also know to have larger lots and houses than those complaining of increases. Curious...
With a little poking around, I have discovered why – the Chatham County Board of Assessors (BOA) in all its wisdom, decided this year to give every residential lot in Thomas Square (and adjacent neighborhoods) a set price.
Not a set price per square foot, mind you, which would make sense – just one flat price.
Some adjustments are made for very large or very small lots, but they do little to mitigate the unfairness of this change, as I will show.
click to enlarge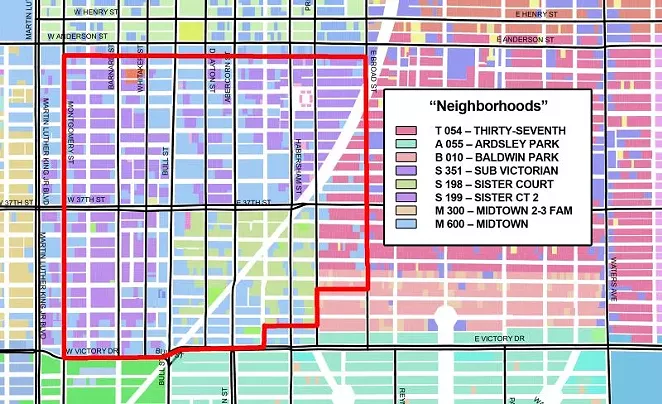 Marcel Williams

"Neighborhood" designations in and around the Thomas Square Streetcar Historic District (in red).
Another note about your property's info: within it you will find a field that says "neighborhood", or "NBHD". This isn't really your neighborhood, at least not as you probably think of it.
This is actually a designation for a cohort of properties that the BOA thinks are similar enough to act as sales comps for one another. This is the group of "peers" that your property belongs to, and is judged by, if you will.
Within the Thomas Square Streetcar Historic District, one can find properties that fall into all of the following "neighborhoods" of land parcels. They are listed below with the new standard lot value that was assigned:
T 054 – THIRTY-SEVENTH Standard Lot Value: $15,000
A 055 – ARDSLEY PARK Standard Lot Value: $50,000
B 010 – BALDWIN PARK Standard Lot Value: $50,000
S 351 – SUB VICTORIAN Standard Lot Value: $35,000
S 198 – SISTER COURT Standard Lot Value: $65,000
S 199 – SISTER CT 2 Standard Lot Value: $25,000
M 300 – MIDTOWN 2-3 FAM Standard Lot Value: $50,000
M 600 – MIDTOWN variable - per square foot basis
I have spent A LOT of time hunting and pecking through SAGIS (Savannah Area Geographic Information System – www.SAGIS.org). I could show you valuations for many properties that I don't think make any sense.
But let me show you two from the same "S198 – Sister Court" cohort that help to illustrate the main problem with this change in appraisal methodology.
(Yet another note: these are real properties, and these records are public, but I have not given specific identifying info.)
1) Large property on the corner of two arterial streets
22,935 square feet
2017 Land Value: $207,900 psf: $09.06
2018 Land Value: $130,000 psf: $05.76 -36%
This property is actually 6 combined lots, yet it was only given an "SZ100" adjustment – the adding of one standard lot value (+100%), to bring the land value to $130,000 from the base of $65,000 (whereas 6 lots x $65,000 = $390,000).
That brings the value per square foot for a corner lot facing two arterial streets to a whopping $5.76 per square foot. Sweet deal!
Another issue with this property is that it should not be in the "S198 – Sisters Court" cohort at all, as these are all residential properties, and this property has obviously been used for non-lodging-related commercial purposes for some time. It does not fit in with its peers.
2) Small bungalow lot on a side street
2,496 square feet
2017 Land Value: $22,700
psf: $09.09
2018 Land Value: $65,000
psf: $26.04 286%
This modest lot was given the now standard price for the neighborhood — $65,000, with no adjustment.
This caused its land value to rocket up to almost 300% of its previous value.
That means the property tax on that portion of its value will go up that much as well.
According to 2017 methodology, the per square foot value for these two lots was about equal, just above $9.00.
Some might argue that this is unfair, as the large lot has much more potential, especially since it is on the corner of two major streets.
But now, according to 2018 methodology, the small bungalow lot is over 4.5 times as valuable ($26.04 versus $5.76) as the large lot on a per square foot basis!
It may be easy to give every lot in a "neighborhood" a standard price, but with results such as this, it certainly doesn't make sense.
Similar disparities in relative per square foot values for land can be found in all "neighborhoods" where standard lot values were implemented, and I'm not sure how widely that was done.
I naturally started poking around in my own "neighborhood" and worked outward. You'll have to do your own research.
The basic result is this: Big lots starting with a value above the new standard lot value got a tax break, and small lots starting with a value below it got screwed, sometimes incredibly so.
This result is called "regressive" — the new distribution of land values shifts tax burden to smaller properties.
Oh, and then remember that these properties will also be getting the bill for the new fire fee as well.
If the powers that be determined that land values needed to be revised upward due to a hot market, then it should have been on a per square foot basis.
This would have distributed the new burden proportionally according to the size of the lot.
But what they have done with this standard lot value is to shift the tax burden to smaller lots while giving larger lots a tax break, and it seems absurdly unfair.
Even setting aside what streets they are located on, who can argue that the market values an almost 23,000 square foot lot only twice as much as a 2,500 square foot lot??
I'll say it again – absurd.
I've made several calls to the BOA over the past couple of weeks. Mainly, I spoke with the staff member responsible for the valuation of my own property in Thomas Square, and he was very helpful.
He also pointed out that he was responsible only for the appraisal of the improvements (buildings, etc).
He informed me that the decision about applying a standard value to the land was made by the higher ups, and completely independent from improvement value.
So, I made a call to one of those higher ups, and I asked some pointed questions. I'm waiting for answers.
When I get these answers, I'll let you know. Until then, maybe take a closer look at your own 2018 property values.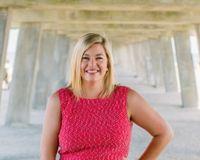 Meet Jenny Rutherford Jenny Rutherford Real Estate, LLC. Where did you grow up? I grew up on a farm at the base of the Blue Ridge Mountains in Virginia. I've lived in several states, including Virgi....